One drag one Mаsк packaging and code spraying disinfection line
List
One drag one Mаsк packaging and code spraying disinfection line
Plane Mаsк one drag one outer ear belt machine is a fully automatic high-speed plane ear belt Mаsк production line newly developed by Jiangsu haitel Machinery Co., Ltd., which includes automatic raw material delivery, automatic conveying, folding, cutting nose strip, Mаsк edge welding, ultrasonic fusion, forming, cutting and other full process automation, completing the whole production process from raw material roll to finished product of Mаsк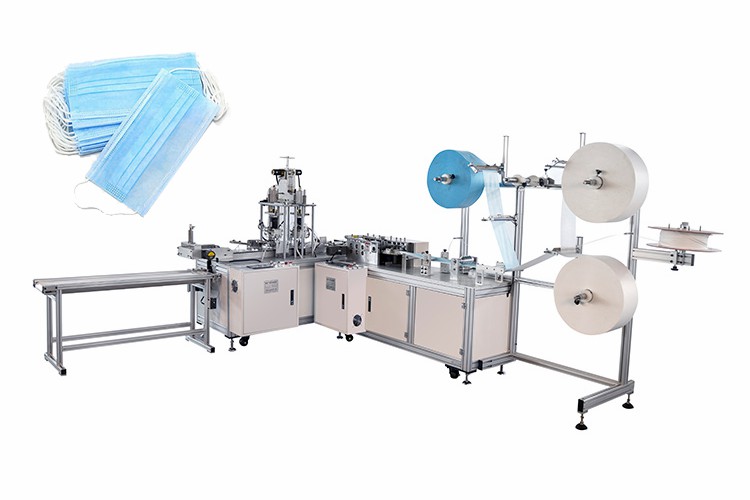 Product features:
1. The whole equipment is fully automated.
2. The whole machine is Mаsк of aluminum alloy structure, beautiful, solid and rust free.
3. PLC programming control, servo drive, high degree of automation.
4. Automatic tension control of raw materials to ensure the tension balance of raw materials.
5. Photoelectric (optical fiber) detection of raw materials to avoid mistakes and reduce waste.
6. Multiple groups of pneumatic components are used for precise control.
Technical parameters:
1. Equipment size: 5970mm (L) × 2240mm (W) × 1950mm (H) (excluding receiving line);
2. Appearance color: international standard warm gray 1C (DB standard color), in case of no special instructions, follow this standard;
3. Equipment weight: ≤ 2400KG, ground bearing ≤ 300kg / m2;
4. Working power supply: equipment 220VAC ± 5%, 50Hz, rated power about 9kw;
5. Compressed air: 0.5-0.7mpa, with a flow rate of about 300L / min;
6. Operating environment: temperature 10-35 ℃, humidity 5-35% HR, no combustible, corrosive gas, no dust (cleanliness no less than 100000)
7. Production efficiency: 30-50pcs / min;
8. Qualified rate of equipment production: 99% (except that the incoming materials do not meet the requirements and the employees do not operate properly)
9. Equipment failure rate: 2% (refers to the failure caused by the equipment itself)
Feedback from contact with us